Using the Power of a Barcode to Connect with Your Customers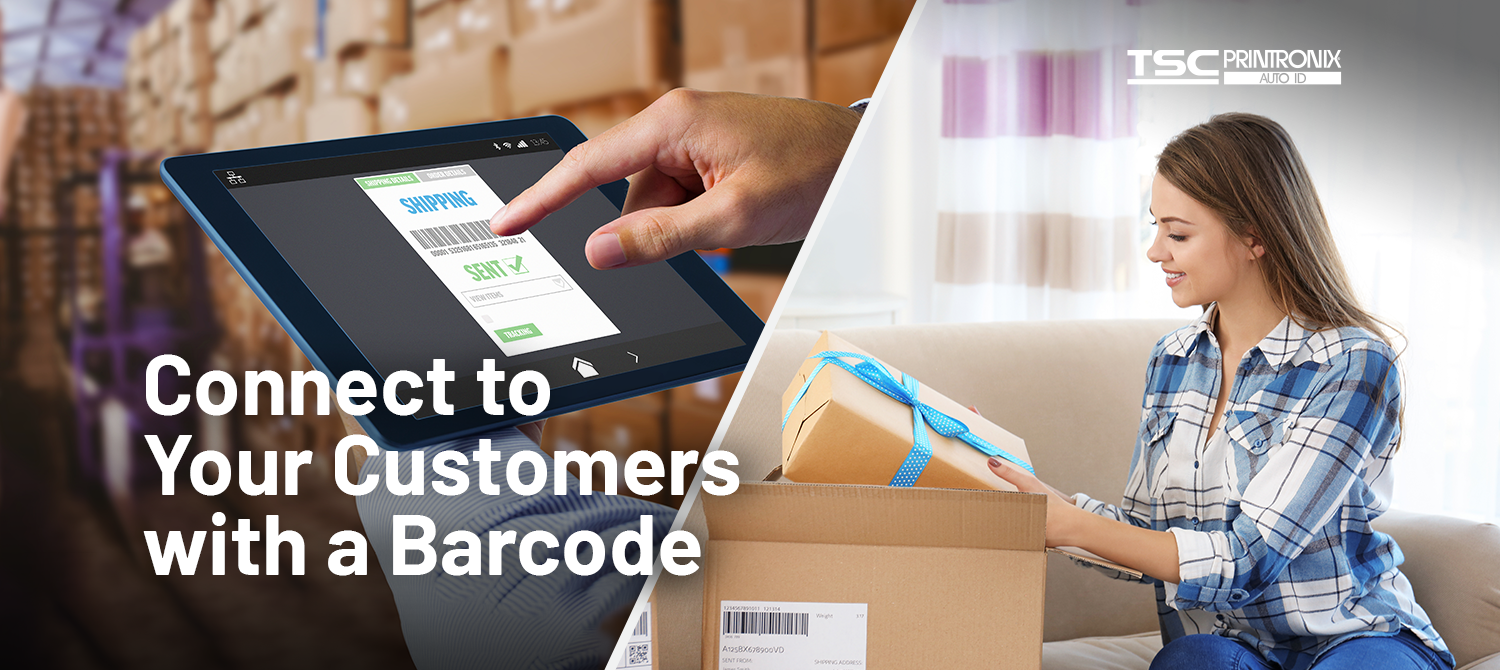 Barcodes have come a long way since their first commercial use in 1974 when just eight digits were transferred in a barcode on a package of chewing gum. The use of barcodes has spread and is commonly referred to as automatic identification and data capture (AIDC). Following this first use of a barcode, widespread adoption of the technology and growing demand for its quick scanning abilities soon challenged the existing data capacity limits, and new barcodes were developed with greater capacity. Today's barcodes, including QR codes, can transfer over 7,000 characters in a smaller space than the first UPC barcodes. Barcode technologies have not only grown in their data capacity limits, but also in the power they give manufacturers to build stronger relationships and deeper data insights with their customers.
Critical Information Shared Directly from the Production Line
The expanded data capacity of today's barcodes enables manufacturers to provide more information to their customers, including when the product was made, product expiration date, manufacturing location, batch number, and other pieces of information that make it possible to respond to product recalls more rapidly and address any identified quality issues. Each label is a unique identifier for the product, connecting it directly back to the manufacturer's line and data. This is advantageous in comparison to untraceable, mass-produced items with no source information communicated via the label. The label acts as a direct link between the product's user and its originator.
This link has power. Power to connect. Power to communicate. Power to exchange experiences and ideas. This link gives manufacturers the highly valued ability to speak directly to their consumers. Intelligently encoded barcode labels give manufacturers the power to improve the user experience, build brand loyalty, and capture valuable customer information.
Technology for a Stronger Customer Relationship
A popular barcode application trend is adding barcodes that scan to pull up video unpacking and installation instructions on products. This enhances customer acceptance. This direct link can be customized to improve the user experience. By knowing the location of the scanning device, a manufacturer is able to tailor their linked videos to the local language of their customer.
Barcode technology can also be utilized by manufacturers to drive traffic to their websites and create an easier purchasing process for the consumer. Using QR codes to provide a link for products directly to the manufacturer's supplies website simplifies ordering future products as well as ongoing consumables.
By offering incentive programs such as contests, points, or discounts for scanning a barcode, manufacturers can build brand loyalty with their customers as well as capture valuable information about who, how, and where their product is being purchased. Manufacturers can also use barcodes to increase transparency and consumer confidence by addressing customer concerns such as sourcing information, product ingredients, manufacturing, and design innovations, or safety ratings in the contents of their barcode labels.
In the entertainment, retail, and food service industries, customer loyalty programs can be implemented using barcode and QR technology for "check-in" applications. These applications not only enhance consumer loyalty, but by having the customer scan a QR code, companies gain valuable insights into who, when, and which consumers were in a specific location at a  given time. Ways to track and link consumer insights has been a longstanding challenge for marketing departments in many companies. Now that the technology exists to create those links, the challenge manufacturers face is how to best utilize the wealth of information available by adding a QR code on the label.
Barcode technology gives manufacturers unprecedented access to their customers in the amount of information they are able to provide and the amount of information they can gather from consumers. This information is only valuable if your barcodes are accurate, readable, and meet industry standards. Barcode validation and verification tools such as Printronix Auto ID ODV barcode verification technology for 1D and 2D barcodes are key for ensuring that your business labels have long-lasting positive effects.
Learn how to add barcode validation and verification to your printer by contacting your local reseller.