RFID Solutions
RFID Printers for All Your Needs
TSC Printronix Auto ID has a reputation for designing industrial printers with versatile features and rugged durability. Our innovative RFID printers are no different.
The RFID printer series offers solutions for every application from high-volume industrial printers to enterprise-level desktop printers. We offer features that are hard to find, including 4 inch and 6 inch print widths, the ability to print on standard RFID labels and on-metal tags and a 600 dpi version for small labels. TSC Printronix Auto ID RFID printers are easy to use and easy to calibrate. And, like all TSC Printronix Auto ID printers, they are easy to install, include the industry's largest selection of printer emulations, and offer compatibility with PrintNet Enterprise remote printer management software.
Download Brochure Find Your Printers
Why Global RFID Encoding Standards Matter

RFID's value is derived from data quality. Using standards-based numbering schemes is the ke

 

How to Select an RFID Printer for Your Application

Selecting the right RFID printer for your business can be a business-critical task.

 

RFID eBook: A Guide to Project Success Criteria

In this eBook, we explore eight different key considerations for implementing an RFID project.

 
Wonder if your RFID inlay or tag will work with one of our printers?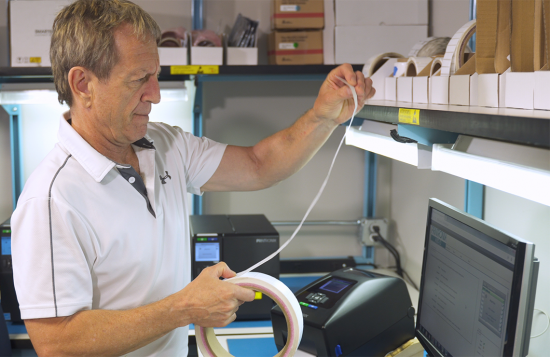 RFID Label and Verification Lab
The TSC Printronix Auto ID RFID Printer and Label Validation Lab is here to help. The lab works closely with inlay and tag manufacturers to test their products for compatibility with Printronix Auto ID RFID Printers. Customers can also work with the lab to test their specific RFID labels and inlays with our RFID printers. Accuracy and speed are also measured to ensure your application is working at optimum efficiency.
Our lab has tested a large collection of inlays and tags that can be viewed below.
RAIN Alliance
TSC Printronix Auto ID is a member of RAIN RFID Alliance and regularly attends meetings and industry events. We are active participants in the Healthcare and Aviation work groups. These groups educate, promote, and accelerate the rate of adoption of the RAIN RFID technology in their respective markets. We are also active participants in AIM's RFID Experts Group, responsible for addressing the standards and issues associated with RFID. The group is comprised of over 40 organizations from the U.S., Europe and Asia regions. The group serves the industry by addressing topics associated with the growth and demand of RFID across all vertical markets such as retail, healthcare, distribution, transportation, logistics and supply chain.
RAIN RFID is a wireless technology that connects billions of everyday items to the internet, enabling businesses and consumers to identify, locate, authenticate, and engage each item.
AIM is the global industry association that connects, standardizes and advances automatic identification technologies.