Vinyl & Custom Signage
Print Custom Vinyl Signage On Demand, Save Time and Money
Whether you need to print health and safety signage, regulatory labels, container labels, multiple rows of small labels, or even automatic labeling, our thermal printers provide a high-quality, versatile solution.
An Extra-Wide Printer to Create Clear and Crisp Vinyl and Custom Signs
We offer an 8-inch wide industrial printer that is an ideal solution for vinyl and custom signage applications. The TSC TTP Series 8-inch performance industrial printers accommodate label widths up to 9.5-inches, with a maximum print width up to 8.64-inches at 300 dpi resolution and 8.5-inches at 203 dpi resolution. This printer is also designed to print wide-lateral barcodes without the need for image rotation.
With the ability to support wider media, the TTP-384 MT 8-inch industrial printer model is an ideal solution for vinyl safety signs or large pallet labels to stand out in warehouse and manufacturing environments.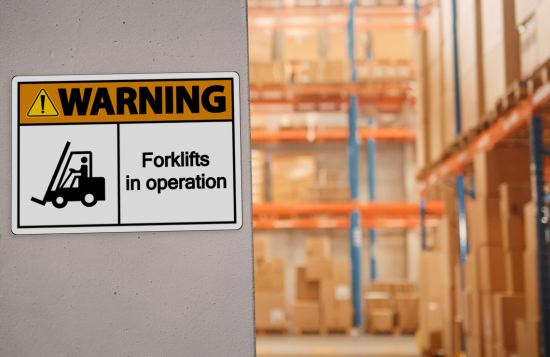 A Flexible Industrial Label Solution to Identify Hazards and Direct Employees
Creating signs and labels in a harsh industrial environment requires a flexible, durable solution. Vinyl label tape provides a cost-effective solution for labels in industrial, commercial and manufacturing applications.
TSC Printronix Auto ID Genuine Supplies offers a variety of vinyl labeling solutions for workplace efficiency:
Pipe Marking
OSHA Signs and Labels
Warehouse Labels
Workplace Safety, Security, and Policy Signs
Arc Flash Warning Labels
5s Labels
Equipment Identification
Provide Visibility and Improved Safety to Your Workflow
Reflective vinyl label tape is a special material that is infused with light-reflective particles, or beaded plastic material, that makes it retroreflective. Retroreflective means that when a light source hits the material, it doesn't simply reflect light directly back at the source but reflects in all directions. This wide-angle reflectivity leads to high visibility both at night and in the daytime.
Benefits to Reflective Vinyl Tape:
Visibility in low light areas
Visibility after dark
Long-distance visibility
Helpful during power outages
Longer distance barcode scanning
Flexible sizing
Applies to a variety of surfaces
Durable
Color coding options
Print on-demand with TSC Printronix Auto ID desktop or mobile printers
A Solution Designed for High-Quality Performance in Even the Harshest Environments
With dozens of colors to choose from, our 3-mil gloss, flexible vinyl label tape provides a cost-effective solution for label and sign applications requiring overall durability and a high resistance to sunlight and fading. Vinyl labels are excellent for harsh environments where a high degree of scratch and smear resistance is required or where UV and chemical exposure is common. Recommended for both indoor and outdoor use where high-quality marking is required.
Applications:
Compliance labels
Sign labels
Drum labels
Pallet labels
Multi-up labels (two or three labels across)
Brand marketing