Five Linerless Labeling Facts You Should Know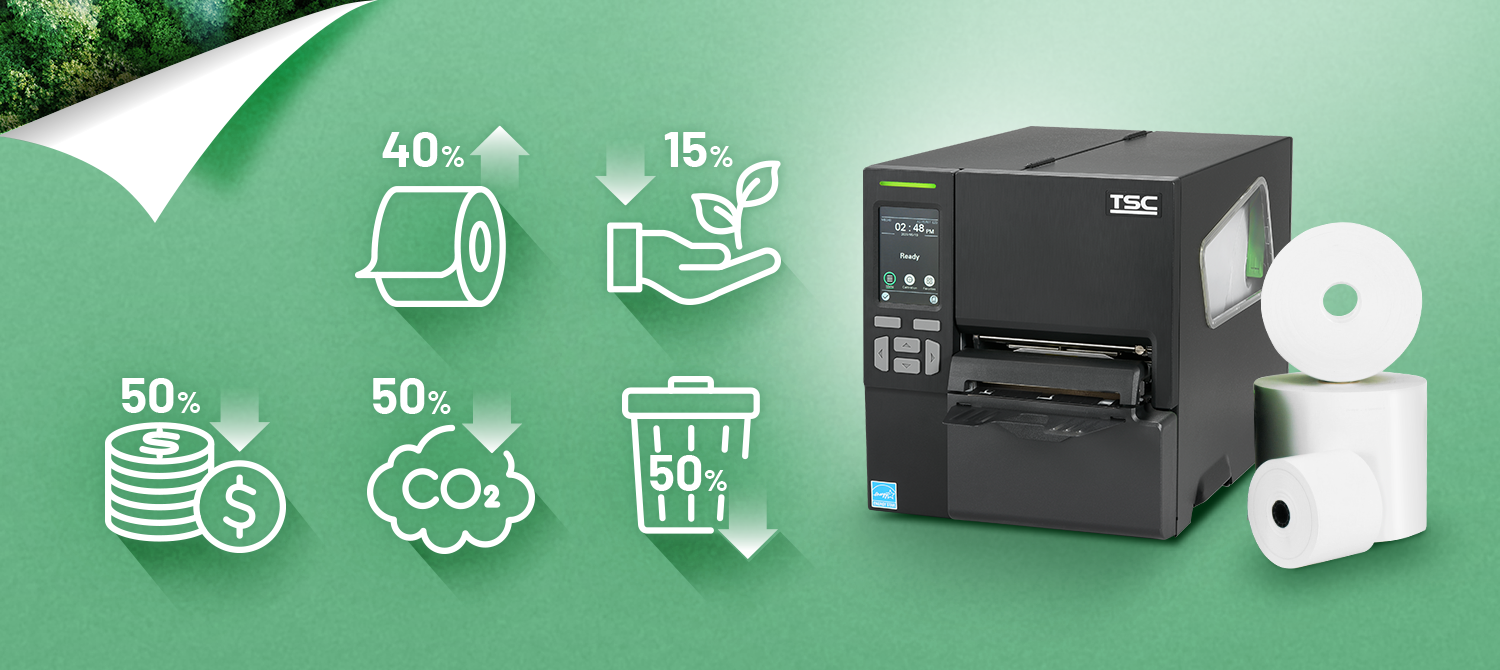 The concept of environmental sustainability has become increasingly important in recent years. Regulations further strengthen the circular economy to support sustainability, aiming to achieve a carbon-neutral, environmentally sustainable, toxic-free, and fully circular economy by 2050.1 Businesses are now under pressure to implement sustainable practices in their operations to prompt the reduction of CO2 emissions. Linerless labels offer an environmentally sustainable method to support this goal.
Why is Linerless an Economical and Eco-Friendly Solution?
Reducing material use and waste is one of the methods to achieve a more sustainable future. Linerless labels offer an economical and eco-friendly solution for labeling. By removing the liner, more labels can be printed per roll, reducing waste and contributing to a sustainable environment. Additionally, linerless labels require fewer raw materials, reducing the environmental impact. Eliminating liners reduces space needed and further reduces transport, warehousing, and material management costs. Here are some linerless label statistics worth noting:
Removing the liner adds up to 40% more paper length per roll2
They reduce the raw materials necessary to make labels by more than 15%3
They reduce transport, warehousing, and material management costs by 50%3
CO2 emissions are also lowered by 50%3
They reduce waste by up to 50%4
How Does This Benefit You?
According to statistics, the 2022 annual shipping volume of UPS, FedEx, and USPS in the United States alone reached $215.5 billion,5 indicating that the warehouse and logistics industry requires a large number of shipping labels to be printed every day, while also generating a significant amount of non-compostable waste liners. Deploying a linerless solution is the alternative.
Adopting linerless labels can bring a range of benefits to businesses, including increased efficiency, reduced costs, and improved sustainability.
Increased productivity and efficiency: By using linerless labels, businesses gain more than 40% paper length per roll, which reduces the need for frequent roll changes and improves efficiency. Less downtime to load new paper rolls translates to cost savings on labor and maintenance.
Reduced costs: Linerless labels do not require a backing liner, using fewer raw materials to produce. Linerless labels generate up to 50% less waste than traditional labels, reducing business disposal costs. Additionally, since linerless labels offer more labels per roll and are typically smaller, businesses can reduce shipping costs and warehouse space used.
Comply with regulations and build sustainability: Linerless labels are half as thick as traditional labels. They reduce the carbon footprint of labeling, protecting the environment and supporting sustainability. Using linerless labels, businesses can demonstrate their commitment to reducing environmental waste.
4 Reasons to Choose the MB240 Linerless Industrial Printer
Lacking a backing paper, linerless labels can easily cause printer residue, especially with large daily printing volumes. And finding the right combination of a linerless printer and linerless label that function well together can be challenging. So how can industries strike a balance between environmental protection and productivity? The answer is the MB240 Linerless Industrial Printer.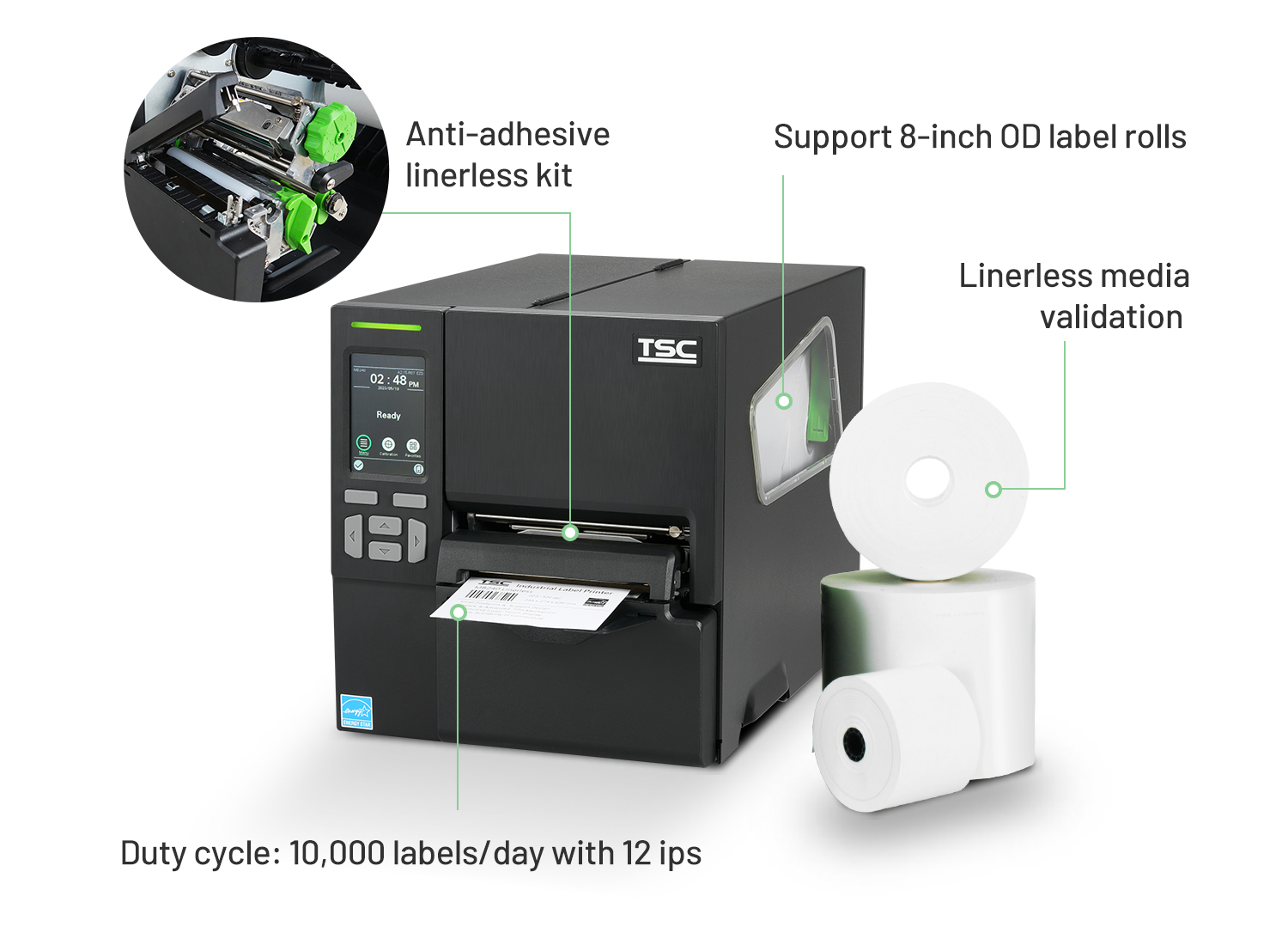 To overcome challenges with residue build-up and paper jams, and to streamline operations, we've implemented design improvements to our MB240 printer. Here are four reasons to select this printer:
The anti-adhesive linerless kit reduces the residue of the label adhesive and prevents paper jams. This design ensures smooth and uninterrupted printing operations.
It can print up to 10,000 labels per day with high print speeds up to 12 ips, supporting a heavy-duty cycle. It's an ideal solution to serve fast-paced and high-volume business environments.
It can load 8-inch outer diameter (OD) label rolls. 10,000 labels can be printed for a label size of 4 inches (W) by 2 inches (H). It reduces the time to change rolls and facilitates more efficient operations, especially in busy environments.
It's equipped to perform with major linerless label brands that have permanent, removable, or freezer-grade adhesives. Through our testing and validation, it also ensures stable supply quality and print performance.
Are you interested in our linerless printing solutions? Please visit our website or contact your local sales representative to discuss implementing sustainable practices in your label printing.
1 European Parliament, "How the EU wants to achieve a circular economy by 2050", January 18, 2023
2 Alison Job, "Linerless Labels Support Green Goals," July 5, 2022
3 GBF, "A Reduction Revolution in the World of Labels!", March 16, 2022
4 Specialty, "Who Benefits from Linerless Labels?"
5 Malika Davis, "How Many Packages are Shipped in the United States?", January 6, 2023