The Importance of Selecting the Right RFID Partners and Printers for Your Retail E-Commerce Projects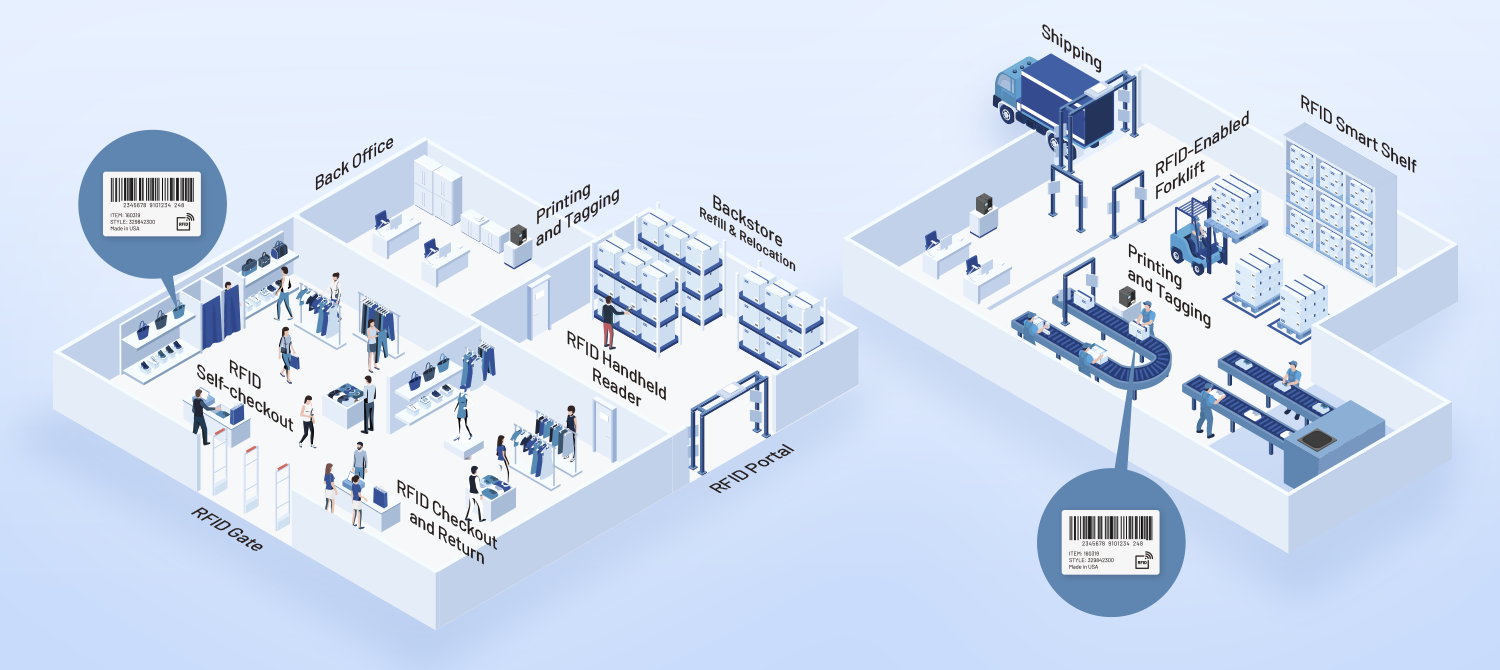 Whether you are a retailer, supplier, or intermediary such as a logistics partner, the importance of selecting the right RFID partners, printers and equipment cannot be overstated. RFID is complex. In a recent RFID presentation from the world's leading retailer, their overriding message was, "RFID is difficult but worth it." This means that selecting the right partners and equipment is often the critical difference between success and failure.
First, the science behind RFID is complex. You need to select partners who have advanced technical knowledge to properly support RFID projects. Speak with multiple potential partners in order to get a good understanding of their true level of expertise. You may not be familiar with much of the terminology, so ask partners to explain. If they can't explain, then it's time to move on to another potential partner.
You want to ensure that any potential partners also clearly outline a sequence of steps to implement RFID correctly. At a minimum, these steps should include:
An initial assessment of the requirements and consequent feasibility, a so-called "feasibility study."
Creation of a statement of work (SOW), which should outline in detail the expectations, requirements, deliverables, and timeline. It should also detail what happens if the project hits a snag.
The specification process for software, tags, readers, printers, and all necessary equipment.
A proof-of-concept stage.
A pilot stage.
Culmination in a go-live stage.
If possible, get SOW's from multiple potential partners. These detailed documents give a great window into the company's RFID capabilities.
Once you have selected your partner(s) for the project, work through the SOW in detail until complete agreement is reached on all points. Do not proceed—or open your wallet—until the SOW is finalized.
A critical piece of equipment for RFID e-commerce operations is the device that will be used to encode your tags. In the retail world, this is commonly an RFID-enabled printer. RFID printers must be physically robust enough to handle the environment and workload while technically advanced enough to properly and reliably encode your RFID labels. Although RFID printers were first developed several decades ago, only a few companies have recently refined them so that complex demands and print jobs are easily handled. Select an RFID printer partner, such as TSC Printronix Auto ID, that is actively developing and refining its printers. Not all RFID printers are equal.
TSC Printronix Auto ID's RFID printers feature industry-leading mechanical reliability and RFID capabilities. We offer a complete portfolio of models to fit almost any application or requirement. How do you select the right printer for your application?
TSC Printronix Auto ID deliberately engineers our printers to support the same advanced RFID commands across all models. This means that to select the correct RFID printer from our portfolio, you only need to answer two questions:
What type or types of tags will you run through the printer? Both the T6000e and T4000 series printers were engineered from the ground up to work not only with standard smart labels but also on-metal tags and many other "special" tag constructions, such as thick Returnable Transport Item (RTI) tags, Electrostatic-Discharge (ESD) tags, plant stakes, etc. If you foresee the need to work with non-standard RFID tag constructions, you should consider one of these printer models.
What standard, non-RFID printer specifications like print speed, print-volume, printhead resolution, etc. will you need? These specifications are generally independent of RFID, and a typical reseller is experienced at working through these specifications with their customers. Notably, most retailer mandates specify a minimum of 300 dpi printhead resolution, so make sure to source your printers accordingly.
Work through these two questions to determine the proper printer model for your needs. Be sure to look at our RFID Family Brochure to learn about our full range of RFID printers. You could also download our cheat sheet for a quick checklist and guidelines to meet retailer RFID mandates.
If you would like help with the process, please contact TSC Printronix Auto ID, and we will be happy to connect you with an experienced partner.